Digital sovereignty describes the ability to shape the digital transformation in a self-determined manner with regard to hardware, software, services, and skills. Common standards, modular architectures and the use of Open Source in the public sector are considered to be central pillars for digital sovereignty and interoperability and GAIA-X is expected to provide a major contribution for the practical implementation of digital sovereignty in Europe.
Against this background leading European cloud experts from Cloud & Heat, Charité / deNBI, D3TN, ecsec, IONOS, publicplan, Red Hat / IBM, Scheer and Trusted Cloud have joined forces to demonstrate the feasibility of deploying composite Open Source applications, such as Nextcloud with the recently presented eID-Login App, via the orchestrator engine Krake to suitable cloud environments as determined by matching user requirements with provider Self-Description files. The application of eIDAS-compliant identity management services provided by SkIDentity ensure the required high level of trust, legal compliance and easy application across Europe.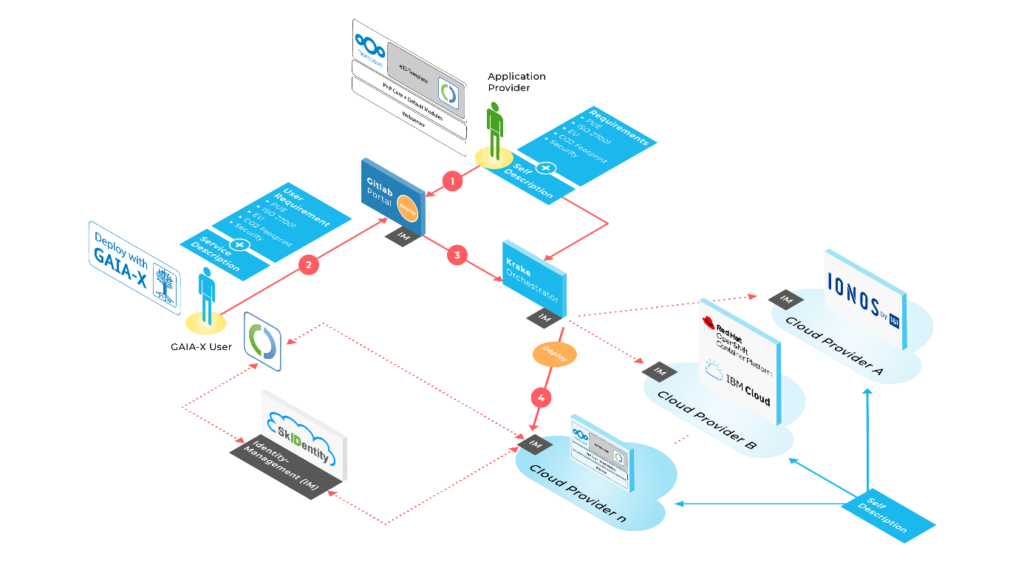 The presented "Deploy with GAIA-X" prototype will be the starting point for the implementation of the German public code repository "Ort für öffentlichen Code", which is envisioned to foster digital sovereignty in all levels of the German public sector – from the local government level via the federal states to the federal level.